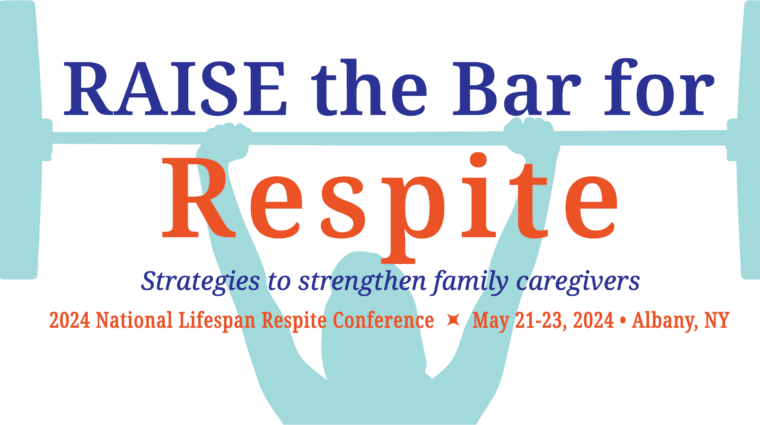 The National Lifespan Respite Conference (NLRC), hosted by the ARCH National Respite Network and Resource Center (ARCH), the New York State Caregiving and Respite Coalition (NYSCRC), and the New York State Office for the Aging (NYSOFA), will be held at the Hilton Albany in Albany, NY, on May 21-23, 2024.
The theme for the conference, RAISE the Bar for Respite, Strategies for strengthening family caregivers, is meant to be timely and inspirational. Coming on the heels of the 2022 release of the National Strategy to Support Family Caregivers by the Administration for Community Living, the theme is a call to action. The report includes nearly 500 actions that can be adopted at every level of government and across the public and private sectors, including actions that each of us can take, to advance supports to strengthen the nation's more than 53 million family caregivers.
The conference focus is on respite, but our driving intention is to strengthen and support family caregivers, who are the backbone of the nation's long-term services and supports system. The conference will provide opportunities to RAISE the Bar for Research, Advocacy, Innovation, Services and Supports, and Education in the respite care field.
Previous National Lifespan Respite Conferences have been very successful, and we expect no less from the 2024 conference in Albany! The conference will offer valuable, up-to-date information for families, professionals and interested agencies and organizations on respite and caregiver supports. Keynote speakers and breakout sessions will offer a multitude of opportunities to RAISE the Bar for Respite.
View and Download Prospectus and Forms
We expect more than 300 conference participants from across the United States and Canada. Attendees are expected to include family caregivers and family members who care for individuals across all ages, and the village of professionals and volunteers who support them.
Participants will include persons with disabilities and older adults, parents, grandparents, guardians, respite providers, home care agency staff, social workers, case managers, care coordinators, Information and referral services staff, program managers, nurses, advocates, direct support workers, employers, researchers, teachers, leaders of faith-based organizations, national and state policy makers, national and state disability, aging, and caregiving organization leaders, and community and business leaders who influence and shape the role of respite in the support network.
The multiple and varied conference sponsorship and exhibitor opportunities will provide you and your organization the ability to:
 I.   Reach hundreds of diverse conference participants from across the U.S. and Canada.
II.   Engage with leaders in the public and private sectors who are actively involved in the issues of family caregiving, family support, respite, home- and community-based care, and other long-term services and supports.
III.  Boost your visibility in this market through a conference sponsorship that provides unique prospects to network, brand, market and advertise.
IV.  Demonstrate your commitment to serving family caregivers, who are the backbone of the nation's long-term services and supports system, and their local communities and networks of support.