ARCH Awards Evaluation Mini-grants to four outstanding Innovative and Exemplary Respite Services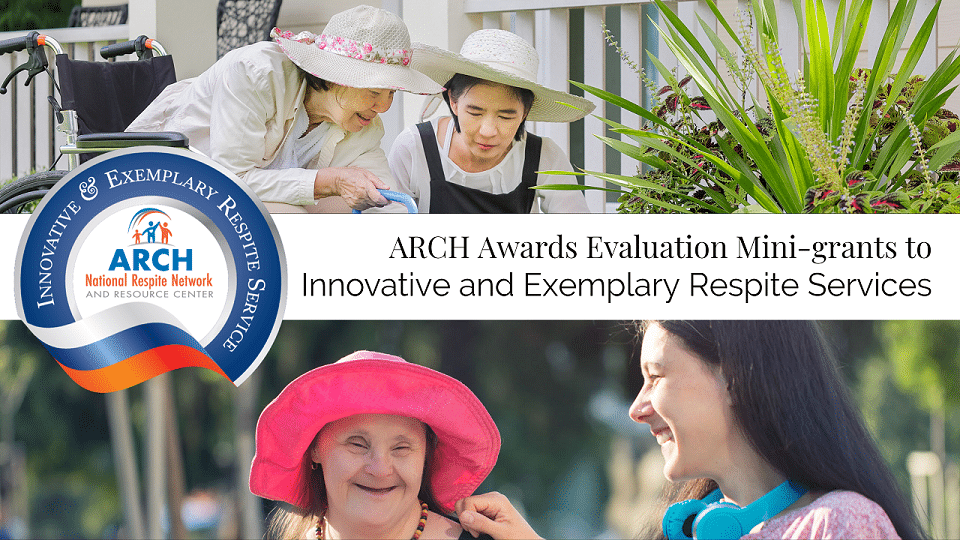 Each year since 2019, ARCH has been seeking and selecting respite services that meet a stringent set of criteria for innovation and excellence. The purpose of the ARCH Innovative and Exemplary Services Initiative is to establish a registry of programs and services to help advance our collective understanding of what respite best practices mean.
This year, four respite programs were selected from among a pool of recognized Innovative and Exemplary services that applied for an evaluation mini-grant to design and carryout a 12-month evaluation and to participate in a learning community with technical assistance from ARCH. Each program was awarded a mini-grant to assist them in conducting the evaluation of their respite care services.
The purposes of the Evaluation Project are to:
to identify evaluation measures and processes that show the effectiveness of respite services in improving family caregiver wellness;
to identify evaluation measures and processes that show the effectiveness of other respite-related program elements that directly or indirectly support caregiver wellness (such as person-centered services or staff/volunteer training and support, for example);
to identify performance measures and processes that help respite programs make decisions and improve services in their day-to-day practice;
to show the merit of respite services to stakeholders and funders;
and to create an evaluation model that other respite programs and services may learn from or use in their work.
The four programs selected to receive mini-grants were:
To help advance the evidence-base for respite and encourage the replication of model programs, the grantees will share their findings with the ARCH Committee for Advancement of Respite Research, the BREAK Exchange, and the broader Lifespan Respite Network.