Music Therapy Respite Program Cleveland Clinic Lou Ruvo Center for Brain Health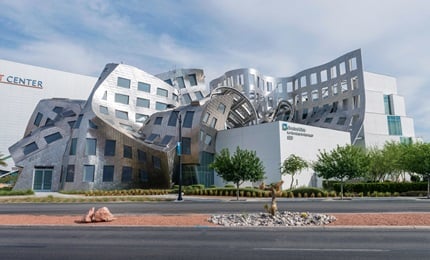 This program has been archived because they did not respond to a request for information at their 3-year review.
Rising Star:
(Archived) The Music Therapy Respite Program at the Cleveland Clinic Lou Ruvo Center for Brain Health in Las Vegas has elevated an established therapy approach among aging populations by combining it with respite, a person-and family-centered approach, and integrated therapy at no cost to families. Using trained therapists working with care recipients who have Alzheimer's or dementia to meet individualized therapeutic goals during 90 minute music therapy sessions, and a cadre of carefully recruited, trained, supervised and supported volunteers to support care recipients and families, the Music Therapy Respite Program creates a respite space for caregivers. Caregiver support group options are also offered, while their loved ones' social-emotional and therapeutic needs are addressed through music therapy. These statements from caregivers convey the importance of this program to caregivers and recipients, and to family relationships:
When I see Sally in music therapy, I see my wife, not the Alzheimer's.
After leaving music therapy, I get my wife back. For the 15 to 20 minute ride home, we sing together in the care and it feels like old times.