Supporting Grandparents Raising Grandchildren (SGRG) Act Initial Report to Congress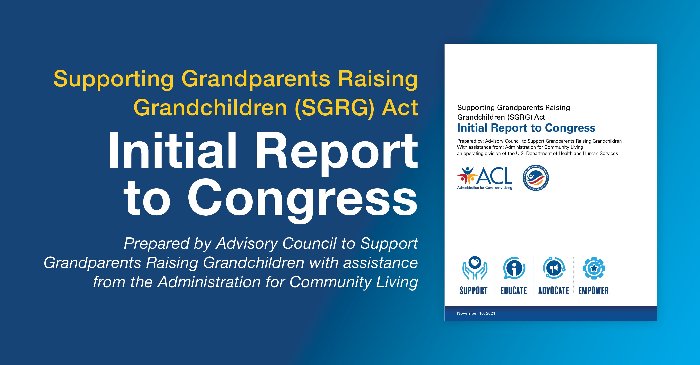 U.S. Department of Health and Human Services, Administration for Community Living, Advisory Council to Support Grandparents Raising Grandchildren, 2021
The Advisory Council to Support Grandparents Raising Grandchildren's initial report to Congress is a culmination of a two-year, multi-faceted effort that gathered information from kin and grandparent caregivers of children across the country. It provides an overview of the many complex issues faced by these families and recommendations for addressing them. The 22 recommendations fall under five priority areas:
Awareness of/Outreach to Kin and Grandparent Caregivers
Kin and Grandparent Caregiver Engagement
Services and Supports for Kinship Families and Grandfamilies
Financial and Workplace Security for Kin and Grandparent Caregivers
Research, Data, and Evidence-Supported Practices
One hundred and fifty-six respondents to ACL's initial Request for Information (5.62%) mentioned respite as an unaddressed need. The report also includes a snapshot of federally funded efforts to support kinship families and grandfamilies. Read more on the Advisory Council's website at ACL.